2022 BMW i4 Pre-Order in Edmonton, AB

The 2022 BMW i4 is the first-ever fully-electric gran coupe. Reserve yours online from Edmonton BMW today.
Reserve Your 2022 BMW i4
* Indicates a required field
2022 BMW i4 Preview in Edmonton, Alberta
At Edmonton BMW, we always have the latest models from the BMW lineup in our new inventory. A new model coming soon and is available for pre-ordering is the 2022 BMW i4, an incredible vehicle with a fully electric powertrain. By shopping at our dealership, you can expect to have the best vehicle shopping experience in Edmonton, Alberta, and surrounding areas.
2022 BMW i4 Interior & Exterior Styling
Inside the i4's cabin, you will find that all instrument panels and controls are modern and driver-oriented to focus on delivering the best driving experience. The flat instrument panel that measures 12.3-inches combines with a 14.9-inch Control Display to create a curved screen that faces the driver for ease of use. The M50 model adds a BMW M IconicSounds Electric, which adapts the driving noises to the selected mode from the Driving Experience Control system. In Sport mode, you can expect powerful feedback that will heighten your senses, while the COMFORT mode has load feedback that's perfect for daily driving. Lastly, the ECO PRO mode brings complete silence when required.
The front of the BMW i4 gets the signature BMW kidney grilles that are larger, making the front-end look sportier. Instead of supplying cool air, they now conceal sensors that the vehicle needs to gather vital information for its operation. From the side, the aerodynamic design is sleek with a long wheelbase while the roof flows elegantly. The rear-wheel-drive i4 comes with standard 18-inch aluminum wheels that are stylish and aerodynamic, while 19-inch wheels are optional. Upgrading to the M50 model brings 19-inch M light wheels in the Double-spoke style 861M, letting the massive M brakes poke out. As optional, it also has 20-inch M lightweight wheels, featuring the Double-spoke style 868M for even better looks.
2022 BMW i4 - Exterior Style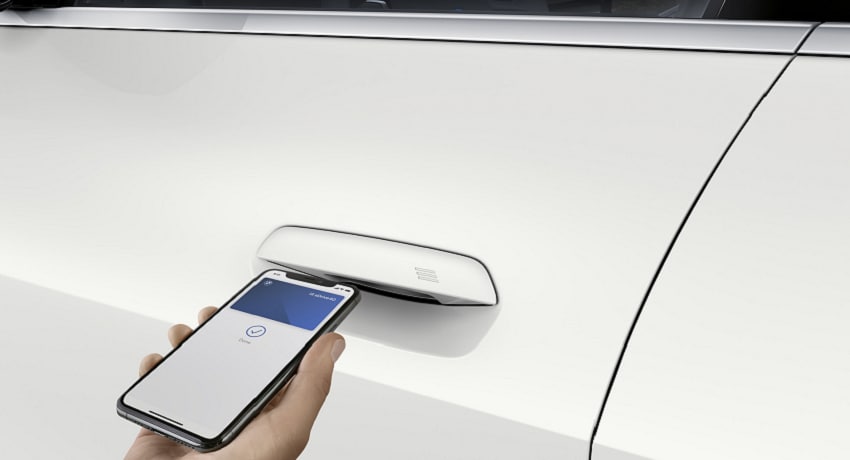 2022 BMW i4 - Interior Style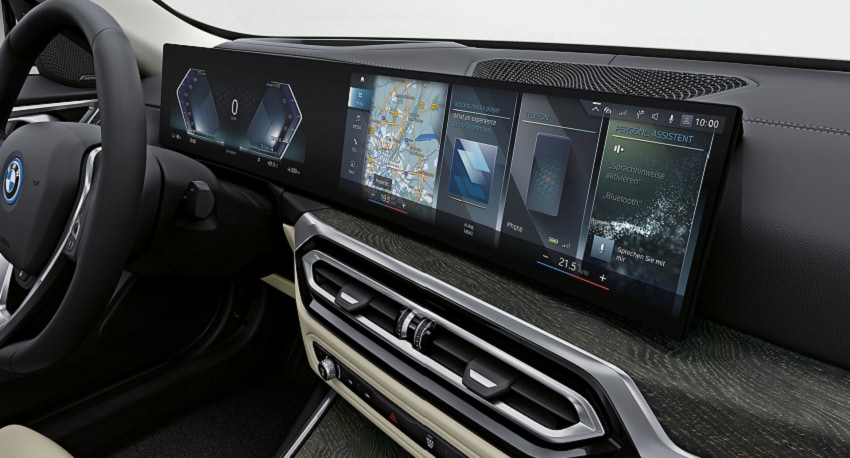 2022 BMW i4 Driving Range
The 2022 BMW i4 is a fantastic-looking four-door sedan with a rear hatch opening to offer more effortless cargo loading. This fully electric BMW can have a driving range of 475 kilometres, and it recovers some recharging from its brake energy recovery technology. With a BMW Wallbox or Flexible Fast Charger, this model should be able to recharge 400 kilometres of range in only eight hours and five minutes. To recharge the maximum range, it will take around nine hours and a half. As for the M50 variant, you can expect a total driving range of 385 kilometres from the same 81.5 kWh battery, but it provides more performance. With a DC fast charger at 50 kW, it will take 22 minutes to recharge 100 kilometres of range, while the 150 kW fast charger can recharge 100 kilometres in only 7 minutes.
2022 BMW i4 Engine Performance
Depending on the model, the BMW i4 comes with one or two electric motors to drive the wheels. The eDrive40 has a single motor that drives the rear axle with 335 horsepower, letting it reach 100 km/h in as little as 5.7 seconds. Upgrading to the M50 model brings two motors, one on each axle driving the all-wheel-drive system with an output of 536 horsepower and 586 lb-ft of torque. The power increase in the M50 model also brings acceleration times down to 3.9 seconds, making it incredibly fast. Since these figures are sourced from electric power, you can expect instant responsiveness and power delivery from these BMW models.
2022 BMW i4 Safety Features
For safety, the i4 comes with various standard and optional driver-assistance safety features. This model's most notable safety features are the standard forward-collision warning, automated emergency braking, lane departure warning, lane-keeping assist, and the available adaptive cruise control with stop-and-go function. You can always be confident behind the wheel of the BMW i4, as it monitors your surroundings for an additional layer of protection.
Contact Us
To get more details about the BMW i4 and when it is available for test drives, don't hesitate to contact us. We always strive to go above and beyond to satisfy our customers, making us the ideal dealership to visit for pre-ordering your 2022 BMW i4.