2022 BMW iX in Edmonton, Alberta

Contact Edmonton BMW to Pre-Order your BMW iX
Make an Inquiry
* Indicates a required field
2022 BMW iX in Edmonton, Alberta
The 2021 BMW iX is born from a vision and created to provide electric mobility to the masses. So whether you are from St. Albert, Sherwood Park, Beaumont, Leduc, Spruce Grove, Devon, Stony Plain, Fort Saskatchewan, and surrounding areas of Alberta, Edmonton BMW is proud to offer next-generation eDrive technology paired with a fully electric all-wheel drive system. The BMW iX is engineered to provide exceptional range and mind-blowing acceleration whether you're taking off from a standstill or cruising on the highway.
At Edmonton BMW, we are excited to showcase the evolution of BMW and invite automotive consumers to learn more and experience the 2022 BMW iX in all its technological glory. The iX should be arriving in our showroom later this year, and we can't wait to showcase its unique features. Until then, let's find what makes it so great.
2022 BMW iX - It Has the Distance
The BMW iX xDrive50 boasts an estimated range of up to 475 km, so whether you're looking to utilize its low energy consumption through the streets of Edmonton or the highways of Alberta, you can rest assured that you will travel in luxury and comfort.
The drive train features two powerful electric motors and xDrive all-wheel drive. The electric motors produce a combined 516 horsepower and propel the iX to 100 km/h in less than 5 seconds. As with any all-electric drive train's torque is instant, and once you put the pedal down on the iX, you will be pushed back in your seat with a rush of excitement that is sure to follow. The best part is this power unit, as BMW stated, has been manufactured without the use of precious raw metals that are rare to the earth.

2022 BMW iX - Charging Made Easy
The iX offers various options when it comes to topping up its battery pack. You can either charge your vehicle at home with a BMW Wallbox (9.6kW) charger or the Flexible Fast Charger (9.6kW). Each charger will complete a full charge in approximately 11.5 hours. On the other hand, if you are on the road and need a quick jolt of electricity, you can utilize a DC Fast Charger (50kW) and get 100 km of range within 21 minutes. A DC Fast Charger that pushes 150kW will give you that 100 km range in 9 minutes.
2022 BMW iX Interior Style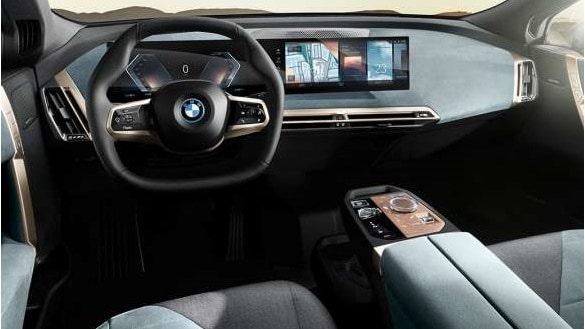 2022 BMW iX Exterior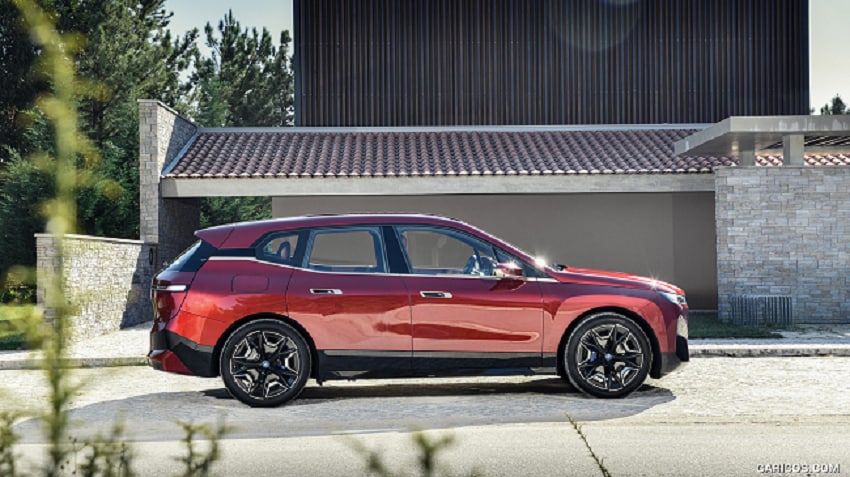 BMW iX Interior and Exterior
When taking a glance at the exterior of the iX, it is apparent it features BMW DNA. For the design concept of the BMW iX, the designers looked away from conventional and created an entirely new design language. They wanted the vehicle to be expressive; however, they still wanted it to be noticed, and the design at first glance would reveal the true nature of driving pleasure. At the front, you will recognize the next iteration of the BMW Kidney Grille, which is now vertical. Its reinterpretation of futuristic design coupled with progressive lines gives this SAV a step ahead of its competition. From the side, you will find a proportioned profile with smooth lines, rectangular contours around the wheel arches, flush door handles, frameless doors, and so much more.
The interior of the iX is sure to please new and old BMW clientele. The interior symbolizes BMW's effort to implement high-tech features but still creates a relaxing and quiet cabin. Its elegant minimalism is combined with state-of-the-art technology. A panoramic glass roof allows you to stare at the stars on a dark summer night and high-quality materials enable the interior to become the driver's absolute favourite place to be. Thanks to the absence of a central tunnel, engineers were able to provide a spacious interior atmosphere for second-row passengers. In addition, rear passengers will enjoy heated seats and 3D loudspeakers that are integrated into the headrests. If you require more space to move cargo, you can also fold down the second-row seats with a 40/20/40 ratio.
2022 BMW iX - Driving Assistance Technology
It's no surprise the iX features the full range of BMW's driver assistance technologies. The Driver Assistance Professional offers a high level of safety and convenience with features like Steering and lane guidance assist, Emergency steer assist, Lane-keeping assistant, and Parking Assistant Plus.
Contact Our Team:
At Edmonton BMW, not only will you experience the best of German engineering in the iX, but our superior automotive buying experience is unparalleled. Our staff is ready to help you get behind the wheel of the BMW of your dreams, so don't hesitate to Contact us for more information.