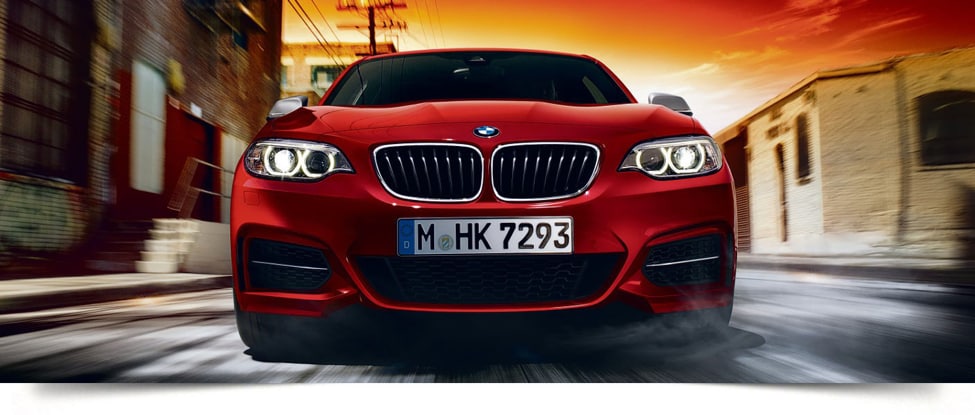 OUR SERVICES
When your car is out of commission, it throws a monkey wrench into plans and wreaks havoc on your schedule. At Edmonton BMW we understand this, which is why our automotive professionals are trained and certified to keep your car in tip-top shape.
As specialists in BMW maintenance, our mechanics are well-versed in the complexities and unique mechanical needs of high performance vehicles that are often overlooked at run of the mill repair shops. Our fully staffed service department understands the precision engineering that goes into building top-tier luxury cars, so you can rest assured that when you trust us with your BMW it will receive the level of careful care that it needs to function at its best. We only use certified top-grade BMW replacement parts in our repairs, and "good enough" is not part of our vocabulary.
From regular preventative maintenance to total engine breakdowns, we have the skills and expertise to get your car back up and running in a timely and efficient manner. In addition, our quality pledge extends beyond BMW auto repair; no matter what make or model car you drive, our team has the up-to-date knowledge and decades of cumulative experience to make sure you drive away happy in a car that looks and runs as well as it should.
We believe in getting the job done right the first time, and we treat each car that comes into our service department like it's one of our own. Call us any time at 780-628-3984 to speak with an automotive service professional and find out what Edmonton BMW can do for you.
WHY SERVICE YOUR VEHICLE WITH US?
Rest assured that every time your bring your vehicle to the Edmonton BMW Service Department it will be treated with the attention to detail and same quality as if it were one of our own. Our fully staffed department of professional mechanics has been trained and certified with the knowledge and skills to handle almost every type of vehicle repair or maintenance, so we can provide the most timely and quality work for our customers.
Our main specialty here at Edmonton BMW is dealing with BMW vehicles. Throughout our many years of experience we have become an authority when it comes to the mechanical needs of masterfully crafted BMW vehicles, needs that most repair shops cannot handle. Our services even include warranty as well as recall work to add further convenience to your vehicle repair experience.
Just because we specialize in repairing and maintaining BMW vehicles, that doesn't mean we don't have the skills to work on other makes and models. It doesn't matter whether you bought the vehicle from us or what make and model it may be, our promise is that once you visit us you and your vehicle will always be treated with the respect and quality you deserve.
Every BMW vehicle that rolls off the line has been crafted and fitted with high-precision parts, so it is no wonder why they perform and look like they do. Edmonton BMW uses only certified and top-grade BMW replacement parts for your vehicle. In fact, no matter what type of vehicle you bring to us, we promise that there will be no cutting corners or taking the easy way out when there is even the slightest chance it could affect your vehicle's ride quality, performance or ability to keep you safe.
Edmonton BMW also stocks many of these same high-quality and licensed parts right here at our service shop. This allows us to keep both our prices and repair times low. For the best vehicle service, no matter the condition or make of your ride, trust the professionals at Edmonton BMW.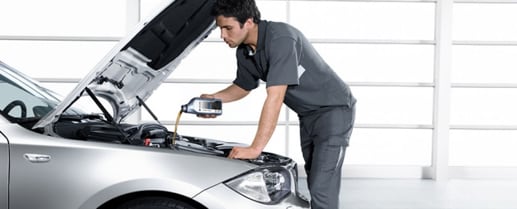 FLUID CHANGES
Our fluid change service at Edmonton BMW  is available in a variety of packages, and services include coolant, filter, and oil change/replacement.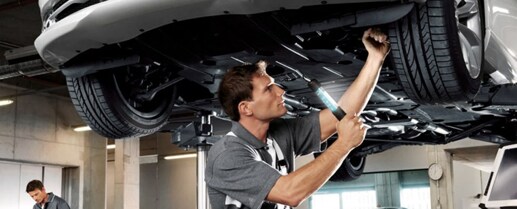 4 WHEEL ALIGNMENT
If you're involved in a collision, no matter how minor, your car will definitely need realignment. Our streamlined process makes easy work of four wheel alignment to get your high performance vehicle back in fighting shape.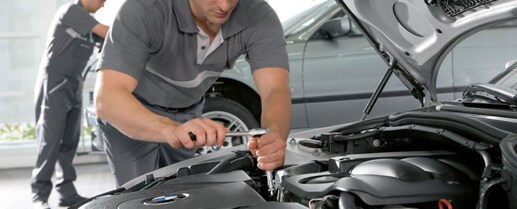 MAINTENANCE (WIPERS, HEADLIGHTS, ETC.)
From everyday maintenance and cleaning to complicated engine overhauls, Edmonton BMW's service department can see to your car's needs. No job is too small for us; we want your car to be fully functional and working at its highest capacity.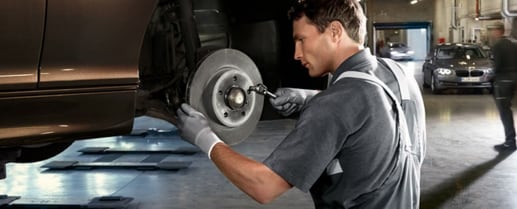 BRAKE ADJUSTMENT | REPLACEMENT
Regular brake adjustment and replacement are necessary parts of vehicle ownership, particularly if you spend a lot of time behind the wheel. Luckily, our service team has taken the headache out of brake service, guaranteeing fast turnaround times and the highest quality standards.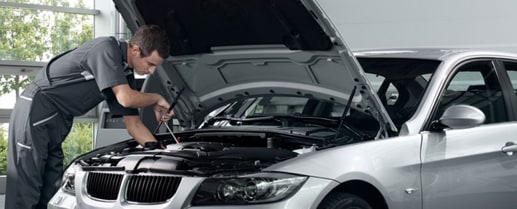 SERVICE PACKAGES
We offer a broad spectrum of service bundles, including our basic maintenance package which covers everything from wipers to headlights and beyond.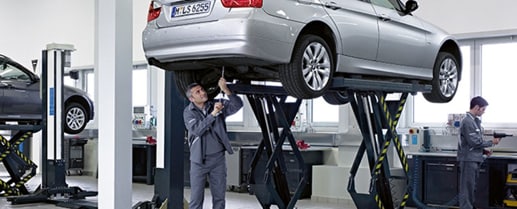 MUFFLER | EXHAUST REPAIR
Troubling sounds from your muffler? Don't wait to get it serviced just because it doesn't seem urgent; no job is too small for Edmonton BMW.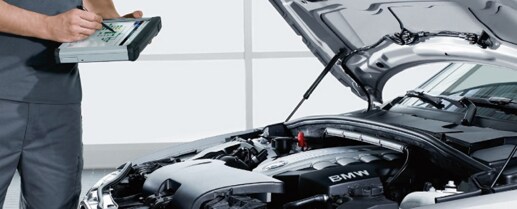 VEHICLE INSPECTION | CHECKUP
Our expert technicians offer both regular checkup and vehicle inspection services.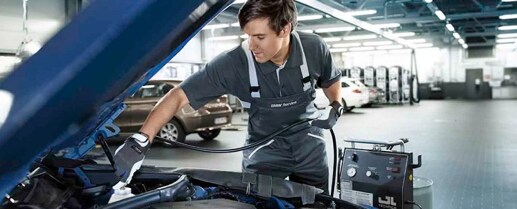 ELECTRICAL SERVICES
From dash lights to LCD displays to remote starters, our world-class electrical department is skilled in troubleshooting and repairing any major or minor electrical issues your car may have.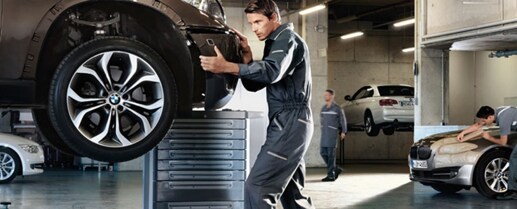 SEASONAL TIRE SWAP
Bring us your Summer tires and we'll swap them for Winter ones.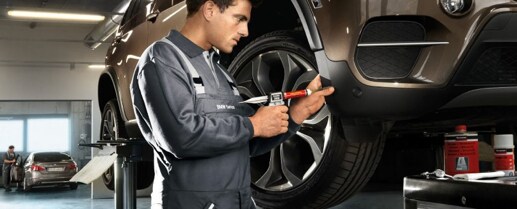 TIRE MAINTENANCE
It's easy to let tire maintenance fall by the wayside, but with Edmonton BMW on the job you don't have to worry. Services include balance, rotation, and replacement.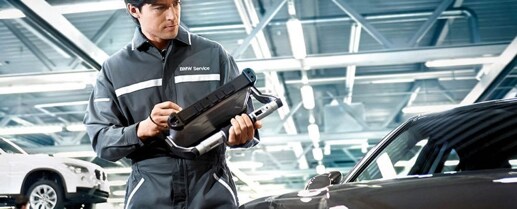 ROAD SIDE ASSISTANCE
BMW Roadside Assistance is a 24 hour emergency service that provides assistance and support when and where you need it.